Awadhesh Pratap Singh Univesity, Rewa (MP)

Awadhesh Pratap Singh University was established by an Act of the Madhya Pradesh State Legislature on Oct. 17, 1969. The University Grants Commission (UGC) recognised this University in February 1972 and it is a member of the Association of Indian Universities (AIU) and All Commonwealth Association of Universities (ACAU). The University is situated in Rewa city,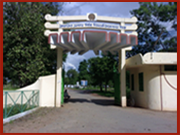 The University is located on a 246.20 acres plot of land in the north of Rewa City, at a distance of about 5 kms, with its campus lying on either side of Rewa-Sirmour Road. Besides the over-looking administrative block, the University complex comprises of the departments of Environmental Biology, Physics, Science Block, Humanities Block (including its extension), Ambedkar Bhawan (Hindi Department), Tribal Centre, Computer Centre.
Department of Business Administration

The Department of Business Administration at Awadesh Pratap Singh University, Rewa (MP) occupies a place of prominence in the realm of professional management education. It was established in the year 1988 and first batch of MBA students was started in January 1989. This department was recognised by All India Council for Technical Education (AICTE) and accredited by the University Grants Commission (UGC), New Delhi in the year 1993. Presently, the department is offering MBA, BBA and PhD Programmes in Management and is a study centre for PGDMM Programme under distance mode.